Pneumatic Tools
CP-724H 3/8" Extra Heavy Duty / CP-726H 1/2" Mini Impact Wrench

Differential regulator allows the operator to match the required power to the job
Improved oil bath DYNA-PACT clutch delivers higher performance and extended durability
Integral 360° air inlet swivel keeps air hose from being teisted and kinked

Model No. 
Square drive
in 
Working Torque Range
ft lbs 
Maximum Torque @ 90psi reverse
ft lbs 
Blows per minute 
Free Speed
rpm 
Weight 
lb
CP724H 
3/8
40-170
200
1680
8500
3.1
CP726H 
1/2
40-170
200
1800
6800
3.1
CP-7733 / CP-7733-2 1/2" Extra Heavy Duty Impact Wrench

Patented clutch provides smooth operation and extreme durability
Comfort and control with new ergonomic grip and trigger
Low air consumption and high torque makes this tool the most efficient in its class
Packed with power and speed, this economical 1/2' impact wrench is the right tool for general automotive service, body shop, farm and light truck work.

Model No.
Square drive
in 
Working Torque Range
ft lbs 
Maximum Torque @ 90psi reverse
ft lbs 
Blows per minute 
Free Speed
rpm 
Weight 
lb
CP7733 
1/2
25-400
550
1300
7000
5.6
CP7733-2 
1/2
25-400
550
1300
7000
5.85
CP-797 / CP-797-6 1" Extra Heavy Duty Impact Wrench

Long known as the workhorse of the truck tire industry
Rocking dog clutch for smooth operation and extreme durability
Teasing throttle for easy bolt starting
Convenient reverse valve for easy directional changes
Choice of professional mechanics for high volume tire work on trucks, buses and heavy equipment

Model No.
Square drive
in
Working Torque Range
ft lbs
Maximum Torque @ 90psi reverse
ft lbs
Blows per minute
Free Speed
rpm
Weight
lb
CP797
1
150-900
1400
1080
4200
27
CP797-6
1
150-900
1400
1080
4200
29.75
CP-828 3/8" / CP-828H 1/2" Heavy duty ratchet

Features CP's new anti-slip head design which virtually eliminates slippage while reducing the potential for heat build-up, even in long run downs
Compact, yet packed with power and speed

Model No.
Square drive
in
Working Torque Range
ft lbs
Maximum Torque @ 90psi reverse
ft lbs
Free Speed
rpm
Length
in
Weight
lb
CP828
3/8
10-50
50
150
10
2.4
CP828H
1/2
10-50
50
150
10
2.4
CP-7830 3/8" / CP-7830H 1/2" Super Heavy duty ratchet

CP's new high powered ratchet offers the Most Torque at 90 ft.-lbs. 190 RPM
Aircraft quality aluminum for lightweight durability and great balance.
Only weighs 2.7 lbs.
Features CP's new anti-slip head design which virtually eliminates slippage while reducing the potential for heat build-up, even in long run downs
Premium tool for brake work, transmission and engine work when you need extra torque

Model No.
Square drive
in
Working Torque Range
ft lbs
Maximum Torque @ 90psi reverse
ft lbs
Free Speed
rpm
Length
in
Weight
lb
CP7830
3/8
10-90
90
190
12
2.7
CP7830H
1/2
10-90
90
190
12
2.7
CP-869-p heavy duty vertical polisher

'Flex-edge' polishing pad to help eliminate scorching
Built-in air regulator
Muffled rear exhaust
Excellent for buffing and polishing fleat and contoured surfaces

Model No. 
Type of sander/ polisher 
Pad size diameter
in 
Free Speed
rpm 
Weight
lb 
CP869P 
Angle Polisher
8
2500
6.5
CP-854 4" heavy duty Angle Grinder

Powerful .6 hp high performance motor for fast, efficient grinding in tight quarters
Aluminum alloy housing is rugged yet lightweight for maximum operator comfort
Spiral bevel gearing in angle head provides extended life and smooth low vibration
Excellent for weld preparation and smoothing, rust removal, deburring and blending of steel, cast iron and aluminum

Model No. 
Type of grinder  
Collet/ Spindle size 
in
Wheel size 
in
Free Speed
rpm
Length 
in
Weight 
lb
CP854 
Angle Grinder
3/8-24
4
12000
9
3.75
CP854E 
Angle Grinder
10mm
5
12000
9
3.75
CP-785 3/8' General Duty Drill

Powerful energy efficient air motor resists stalls
Triple idler planetary gearing for smooth operation and extended tool life
Handle exhaust reduces noise and directs air away from work area
Ideal for accessory and air conditioner installation, engine work and auto body repair

Model No.
Chuck size
in 
Spindle size
in 
Free Speed
rpm 
Length
in 
Weight
lb 
CP785 
3/8
3/8-24
2400
7
2.25
CP785H 
1/2
3/8-24
500
7.75
3
CP-883 / CP-884 Air Hydraulic Riveter

Vacuum assist system designed for greater efficiency in downward riveting
Cylinder cap with storage area for spare nose pieces
Universal air inlet swivel to allow greater maneuverability
Three piece jaw set designed from the highest quality materials
Rubber boot protects tool and work surface
Comes complete with 1/8', 5/32' and 3/16' nose pieces

Model No. 
Traction Power
lbf 
Rivet Capacity
in 
Stroke Length
in 
Weight
lb 
CP883 
1895
3/16
11/16
4
CP884 
3960
1/4
7/8
5.5

CP-9107 Mini Die Grinder


CP-3050 Die Grinder


CP-3140-B Heavy Duty Grinder


CP-319-A Grinder / Vertical Sander

Grinders

» Die Grinders

Model
Free speed
rpm
Spindle Thread Size
Collets Capacity
mm
Wheel Capactiy

Ø

X width
mm
Approx. Weight
kgs
Overall Length
mm
Outside dia.
mm
Air Inlet
CP-9107*
3500
---
6
---
0.45
124
35
Rc 1/4"
CP-3050N-21000**
21000
M10
6
40 x 20
2.5
317
51
Rc 3/6"
CP-3050N-18000**
18000
M10
6
50 x 20
2.5
317
51
Rc 3/6"
CP-3050N-15000**
15000
M10
6
56 x 20
2.5
317
51
Rc 3/6"
CP-3050N-12000**
12000
M10
6
76 x 20
2.5
317
51
Rc 3/6"
CP-3050N-8000**
8000
M10
6
76 x 20
2.5
317
51
Rc 3/6"

* Standard equipment : 6mm Collet Stock Code D 7608 501 Optional equipment : 1/4* Collet Stock Code D7602 511
** Standard equipment : 6mm Collet Stock Code Z 9568 520 Optional equipment : 1/4* Collet Stock Code Z 9579 520

Note :

While ordering CP-3050, please specify, whether you need wheel or collet. Unless specified 21000 & 18000 rpm are supplied with 6mm collet and 15000, 12000 and 8000 rpm are supplied with the wheel guards.
Mounted point or grinding wheel is not in the standard scope of supply.

» Heavy Duty Grinders

| | | | | | | | |
| --- | --- | --- | --- | --- | --- | --- | --- |
| Model | Free speed | Spindle Thread Size | Wheel Capacity Ø X width | Approx. Weight | Overall Length | Outside dia. | Air Inlet |
| | rpm | | mm | kgs | mm | mm | |
| CP-3140-B-6000 | 6000 | M16 | 150 X 25 | 5.2 | 535 | 89 | Rc 1/2" |
| CP-3220-S-5800 | 5800 | M16 | 150 X 25 | 6.8 | 603 | 89 | Rc 1/2" |

» Vertical Grinders & Sanders

| | | | | | | |
| --- | --- | --- | --- | --- | --- | --- |
| Model | Free speed | Spindle Thread Size | Wheel Capacity Ø X width | Approx. Weight | Overall Length | Air Inlet NPTF |
| | rpm | | mm | kgs | mm | |
| CP-319AG- 6000 Grinder 6" | 6000 | M16 | 150 Resinoid cup | 6.2 | 187 | Rc 1/2" |
| CP-319AS- 6000 Sander 7" | 6000 | M16 | 180 coated disc | 6.2 | 187 | Rc 1/2" |
| CP-319AS- 6000 DCD Grinder 9" | 6000 | M16 | 230 DCD | 6.2 | 187 | Rc 1/2" |
Rammers & hammers
» Heavy Duty Chipping Hammers / Sand Rammers
| | |
| --- | --- |
| | |
| CP-4123 Chipping Hammer | CP-4003 Sand Rammer |
Model
Blow per miniute
Stroke
Approx. Weight
kgs
Overall Length
mm
Air Inlet NTPF
Type of Handle
Standard Equipment
CP-4123-2H
2400
50.8
6.0
327
RC 1/2"
Pistol Grip
CP-4123-3H
1920
76.2
6.5
378
RC 1/2"
Pistol Grip
CP-4711-LYRA
850
4.8
475
RC 1/4"
Straight
63.5 mm dia. rubber butt
CP-4003-LYRA
800
11.8
1156
RC 3/8"
Straight
73.0 mm dia steel but
» Weld Flux Chipper / Needle Scalar
| | |
| --- | --- |
| | |
| CP-455-L Weld Flux Chipper | CP-455-LNS Needle Scalar |
Model

Blows per minute

Approx. Weight
kg

Overall Length
mm

Air inlet Connection

Type of handle

CP-455L

4200

2

257

Rc 1/2"

Straight

CP-455LNS
4200
3.1
450
Rc 1/2"
One set of 19 hardened alloy steel needles, Ø.5 mm
» Heavy Duty Riveters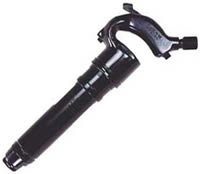 CP-4689 Riveter
Model
Riveting Capacity in Steel
mm
Blows per minute
Approx. Weight
kg
Overall Length
mm
Air inlet Size
Type of handle
Standard Equipment
CP-4689-PUBAR
20
1500
7.6
430
Rc 1/2"
Pistol grip
Snap Clip Retainer
CP-4689-PUDAR
24
1320
8.6
470
Rc 1/2"
Pistol grip
Snap Clip Retainer
CP-4689-PUGAR
30
1200
9.4
523
Rc 1/2"
Pistol grip
Snap Clip Retainer
HOISTS
CP 1100 series high speed Air Hoists are portable & light weight. These hoists have been conceived for a broad range of applications covering fast moving production operations in hazardous environments, applications where space is limited for material handling, production and assembly operations in medium to heavy manufacturing. These hoists are built to stay on the job even under the toughest working conditions.

CP-1100 Hoists
  Model
Rated Capacity
kgs
Lifting Hook Speed
m/min
Lift
(Hook Travel)
m
Approx Weight
kgs
Type of Control
 CP-1100-500
500
15.3
4.6
16.8
Pull cord
 CP-1100-500R
500
15.3
4.6
18.6
Pendant
 CP-1100-1000
1000
6.4
4.6
22.7
Pull cord
 CP-1100-1000R
1000
6.4
4.6
24.5
Pendant
Air Inlet Connection: 3/8" NPTF Male Swivel
Legris - Air Service Units
Legris offers an extensive range of filters, regulators and lubricators, including individual units and combinations.
Filters

eliminate dust and coagulation from compressed air
series standard and mini
drain: manual as a standard, semi automatic as and option
choice of filter elements 5µ or 40µ
high quality bowl designed for long service life

Regulators

allow easy adjustment of air pressure
series standard and mini
0,1% accuracy of pressure control
can be installed in any position
technology: piston type regulation

Lubricators

fog style lubrication for extended life of equipment
series standard and mini
refilling of oil without stopping the air line
easy adjustment of oil delivery volume

Spare Parts

pressure guages
sinterned bronze filter elements
filter bowls and lubricator bowls
spacer blocks